Well the
Aug 21-28
numbers weren't what we've experienced in the past…we still have all our fingers and nobody drowned.  Now that's not to say both of those points weren't in jeopardy during the stay however.  
With water down a conservative estimate of 2 to 2.5 feet, the normal weed bite was a tuff one to have.  Low water and increased water temps made finding active fish always a challenge.  However perseverance, some luck and a lot of water coverage produced very good numbers for those involved.  
The weed thing still had its high points, and the rock bite was there when the wind cooperated.  The trolling bite, though slowed, still kicked out some fatties.  It continues to amaze me that we can troll these big fish up well after dark, and with this years full moon in full swing, fishing these pigs took us to 11:15pm some nights.  
Our weather was really too nice for the NWT in late August, with temps in the high 50's to low 60's each day and plenty of sunshine to boot.  I truly believe that we could've benefited from a cold snap during our stay.  Even some beach wear made an appearance during our week…but then those clowns would wear kilts to a black tie affair.  
Hats off to Candace and Tim for an outstanding job taking great care of our every need during the stay.  The meals were incredible; the coordination of everything in camp was smooth as silk due to their attention to detail and always going above and beyond.   
So I'm sure you're asking yourself where are the fish numbers……..well I can say that 47" was touched three times during the week.  As far as the other fish are concerned, six anglers accounted for 1167 pike during the stay, with 97 fish measuring 41" or greater.  We'll have a better break down of who caught what once photos arrive for submission.  Again the shear number of fish in that 37" to 40" class is mind boggling.  It only serves as a reminder that this is truly the greatest pike factory on North America, and after 18 trips to this pike Mecca myself, this spot hasn't missed a beat.  
John Mich
LOOK Kids!
It's the John Mich Show
(with special guest Rick Sweeney)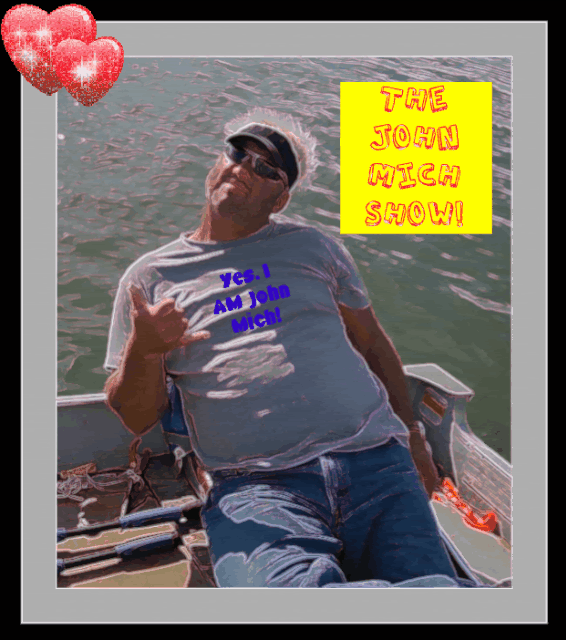 And then there's the rest of us.
<*))))))))>< ~~~~~~~~~~
Week of August 28 to September 4th
This was my 10th trip to Taltson and it was another great one. First the weather – the best I have seen
with temps in the mid-50s to low 60s the whole week. A couple of very breezy days and about an hour
of light rain during the entire week. The group included only 2 guys that had been to Taltson before.
The biggest lifetime pike caught prior to our trip by the 6 newbies was 40". Several of the group had
never pike fished before and one member had almost no fishing experience. So with this band, anything
could happen - and it did. Biggest fish - 48" caught by Bob Lefebve who had never gotten even a 41"
trophy prior. Largest 3 fish (47, 45, 45) – Darren Huelsman, non-fisherman prior to this trip. We even
broke the pike only in the fall code and figured out where to catch walleyes (12-15). I was worried about
having a bunch of new guys handling all these big pike, but there were no mishaps. No one got a serious
hook in them, no broken rods and no one took a swim!
Now the details. As mentioned by previous groups, there was low water and it changed the fishing.
The weed bed was a couple of feet shallower and I believe held fewer daytime fish. The lakeside rocks,
islands and points produced well when wind was coming in from any westerly direction. Anything else
caused mud to flow in from the back bay and no big fish. Going upriver was a little hazardous due to
low water and the rocks, but produced surprisingly well. We should have gone upriver more often.
Fish were caught sporting big whitefish tails sticking out into their throat. And the evening bite was
excellent. A conservative estimate is that at least half of the trophies were caught after dinner (730PM
to 1030PM).The overall numbers were very good considering the experience level of the group – 115
41"+ trophies and over 500 between 36" and 40". These new guys realized they were in for a big time
when 5 nice fish including a trophy were caught off the dock before we even got in a boat on day one.
Boat trophy counts –
Bob Lefebve – Bill Lefebve – 25
Bill Huelsman –Darren Huelsman – 24
Tim Weiss – Homero Garcia – 30
Dale Shinavar – Steve Billmyer - 36
Another excellent Great Slave trip.
--Dale Shinavar
<*))))))))>< ~~~~~~~~~~
September 4 - 11 Report from Dale Horton.
This being my third trip to Taltson, this was the best weather yet. Many of the days were in the 60 and low at night was in the 40. We had six in our group. Like everyone knows who have been to Taltson, it is hard to explain to people how good this place is. I had a couple of friends in camp the week before us for their first trip so it was going to be fun to meet them at the dock. I know they would have a great trip but I was still worried " what if". I could tell by their faces as I got of the float plane they had a great trip. First thing said "it was a trip of a life time". The father had the big fish of the week, a monster 48". You can read the rest of their trip when they post.
Back to our week. We ended up with 127 trophy pike over 41". The biggest was a 30 plus pound 47". Most were caught of the wind blown side of the islands. When the wind wasn't blowing the guy's would move out and troll the sand flats with pretty good luck. The 47" was taken there. The weed bed was very slow compared to normal. Like groups before us have said the weed bed was thinner than normal , with more grass than cabbage. A few trophies were caught there but not like in the past. The river bite was hot and heavy at times. It seem that early in the week it all happen in the first hour. As the week went on the bite lasted longer into the night. At the end of the week we were catching big fish the whole while we were out there.
Two of our guys went after walleyes and did very well. If I had to guess they caught well over 100. The biggest being 28". Thanks to them we had some very good walleye dinners.
Hot baits for pike were bucktails, bulldogs, spoons and grinders. Walleye baits used were small bucktails and jig with twisters. The guys said they caught a number of trophy Pike while fishing for the walleye on the jig. Also lost many trophies on the jig!
One day we did take a trip to the end of the islands toward the east arm for trout. Only one trout caught. Many small pike in the bays that were fished. One very heavy 44" pike out far when fishing for trout. If had to do again we would not take that trip again.One interesting thing we found on the way was some very large weed beds about half way down located out in the middle. Could be worth a future trip to fish. I would guess about 45 minute boat ride.
We never did make it up the river this year. With the water low we didn't want to take a chance of damaging motors.
The food! What can you say except the food was fantastic. I'm sure everyone went home with a few extra pounds added.
Photo's will come as soon as I get them from the guys.
Thanks to Don, John Mich and everyone else at Taltson for another great trip. We look forward to our next trip to the best Pike Waters anywhere! Dale Horton