The first is from Herb Guarascio and his son Matt:
Far exceeded expectations at all levels.
Some people say they "caught a ton". Matt and I caught 3.25 tons during the week. Really.
Matt had 40 trophies (40" or more inches). His first fish caught was 47". Second fish caught was 45". His biggest of the trip was 48". I had back to back 45.5"s for my two biggest pike ever. I had 19 trophies of 40+" (For those of us used to Ontario trophies of 38", Matt and I caught 90 of them! - that's a lot of hats).
Matt caught his 12 personal best pike. I caught my 7 personal best. All of them 43" or more. All FAT fish, most with another fish (walleye or small pike) visible in their gut; some with the tail still visible in their throat.
We caught 777 fish. (I had a counter.) Almost all northerns, but of course some walleye snuck in. Matt caught a 26" walleye.
On 4 of 7 days we averaged a fish every 3.5 to 5 minutes (which included fighting the fish, removing hooks, some photos of trophies, etc). Ie, many spells of non-stop catching. You expected a fish almost every cast. On those 4 days we caught over 120 fish (167 was best day).
First and last day were in the 70s. Other days were cold and 30+mph winds. Cold enough to wear long underwear, 2 sweat shirts, rain gear, and more including wool socks. Matt wore winter gloves a few days. Ice was on main lake as we flew in, but far from shore where we fished.
We fished in a small stream and caught a trophy northern. We also caught a bunch of trophies the last night fishing from "shore" on an rock reef in the middle of a bay where you could see trophies explode on your surface lure literally at your feet. That was really fun. It was like seeing what happened at the other end of your line .
Sun set about midnight but never went far enough below the horizon to ever get dark. You could read the paper at 1 a.m. By 3 a.m., it was bright as midday.
With cold and wind, mosquitoes and bugs weren't bad on the water, and ok on shore.
An amazing experience. Tons of big fish, and the hardest fighting pike I have experienced to boot. The big one that got away - there has to be one - pulled our three man boat around and even turned it. (Needless to say, I loosened my drag after that brain freeze.)
Almost caught a hook in the face, but no casualties. Some sore muscles (that's good news.) Matt had to get out and push the boat at one point when we were beached trying to get back into a shallow bay. Lots of fun "side stories".
We go all that way and the other 2 guys in camp are from Naperville.
No, I didn't fish around the clock. Too tired from catching for 8 or 9 hours.
Lots of photos. Even more memories.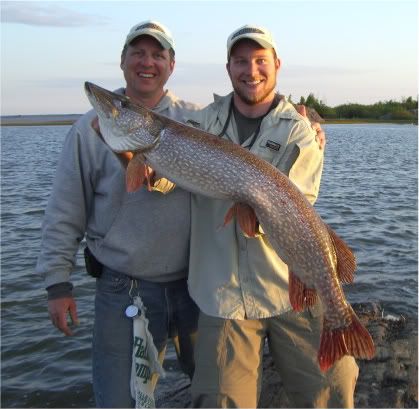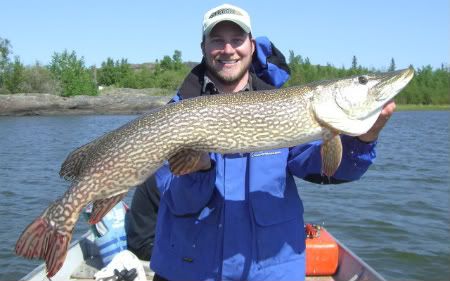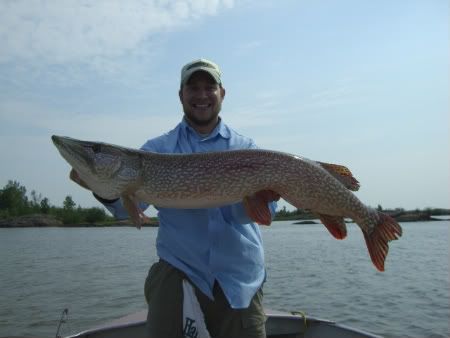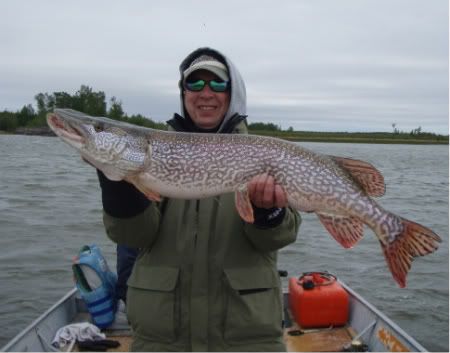 <*)))))))<~~~~ The next report is from Rick Sweeney: It was a fantastic trip again. I'm guessing that with early ice out we really got into some post spawn pigs ready to forage. Weather and food excellent like last year. For a cheap rate we upgraded our flight to first class on the way to Edmonton. Four hours of lots of leg room was worth it especially when the aircraft was only a 70 seater. Fished Beck's and Thubin (nothing back in Snuff Channel) for 7 days and nights. Saturday when we got there Beck's was on fire: 25 38"- 40" and better 12 41" and better (largest 47") 38 walleyes Sunday and most of Monday slowed due to rain and a front. By Monday evening things picked up again and we alternated between Beck's and Thubin The rest of the week. W-Th-F in Beck's was crazy. Two things different from 1st week last year ; 1. No Coneys (early ice out sent 'em up the rivers early) 2. The weight size of the 37" - 40" fish. I have never seen fish that fat and they probably looked a lot like your August fish. Totals for the week for Steve and Rick: 71 40" or larger 53 41" or larger (Steve 27 Rick 26) 73 Walleyes Trophy Pike breakdown: 13 41" 12 42" 8 43" 6 44" 5 45" 4 46" 3 47" Lures: Super Stalker worked best. Magnum Bulldawg so-so compared to last year. Johnson silver minnows, single hook Doctor spoons, single hook 3/4 oz. Cleos, and any size Bucktail depending on wind, water depth, or fish location. Thanks for your help and let me know if for some reason you need a substitute in August. Regards, Rick <*))))))<~~~~~
Be sure to check out the FACEBOOK page for Taltson Bay as well! And also check out Customfish.com and the fishing report there too! Taltson Bay IS the worldwide leader in World Class Pike Fishing!
If you would like updates on when reports get posted, please send your email address to webmaster Jamie Riani at jamie@customfish.com ! Thanks!!
( HINT*** The facebook page has even MORE stuff on it! Become a fan today!)